We're down to the final two months, months packed with holidays, shopping, food, decorations, and lots and lots of holiday themed movies, most of which will include a sappy love story for good measure. Though many of the local department stores began displaying their Christmas decor weeks ago, I like to subscribe to the general guideline of one holiday as a time. I jump on the Christmas bandwagon with full-throated support…just not until the Friday after Thanksgiving! Hopefully you took the time to fully embrace Halloween yesterday. Hopefully you will bask in thankfulness and gratitude between now and Thanksgiving. (Realistically, I hope you have much to be thankful for outside of November as well). Truth be told, however, I do believe there is something magical that happens when the days get short, the snow starts to fly, the and crisp smell of pine begins to creep in on the aroma of pumpkin spice. Though fall always seems to disappear quickly come November, it's replaced by the most wonderful time of the year. Unconvinced? Here are four things to make you smile, think, and grateful this November.
Hopefully the gif above isn't making you seasick. It's a gratitude generator. The purpose of the gif is to prompt gratitude for people and skills in a variety of areas. It's simple to use: just take a screenshot of the page, and then answer the question that shows up in the image. Your answer should be something or someone about which you can be grateful. Why is gratitude important? Well outside of Thanksgiving Day, which is literally a holiday celebrating our gratefulness, expressing thankfulness on a daily basis, year round has been linked to better physical and mental health, lower rates of depression and suicide, self empowerment, increases in self-esteem and confidence, and better sleep. Expressing gratitude lowers stress, and as such, is our staff development focus and goal this year at work. In fact gratitude journaling and mindfulness practices are utilized and supported by well-known figures and celebrities including Oprah Winfrey, Gwyneth Paltrow, and Richard Branson.
We are getting ready to open our third Airbnb this month, a cozy one bedroom house with a warm nature theme. We've had amazing success with our short-term rentals, and despite a few lessons learned about people's habits and the human condition, our experience has been wholly positive. So sometimes I read stories like this one, and I'm a little bit nonplussed about how things can go so horribly wrong. Don't mistake me. I'm not saying the host in the story did anything wrong, I just can't believe that other people are having such awful experiences with a service that has worked out so well for us. For our success, I am grateful! (See what I did there thing #1!?) For the rest of you who might be turned off to short-term rental travel because of that horror story, don't panic. Here's a look at the top luxury rentals currently listed on Airbnb. Time to plan your holiday getaway!
Please, for the love of all that is good, tell me that you are voting this month. I'm not even suggesting who you should be voting for, just go and do it. It is not that difficult, and it does matter. Here's some voter registration info to get you started. Don't vote? Don't complain! I do tend to subscribe to the theory that you don't get to be upset about a politician, stance, or policy if you didn't at least take the time to go vote for a different politician, stance, or policy. Act. Engage. Participate in something more than just trolling the politicians you don't like on social media.
These are the 158 new emojis that were released by Apple this week, meaning that we can now head into the holidays with a fascinating array of new options for expressing ourselves in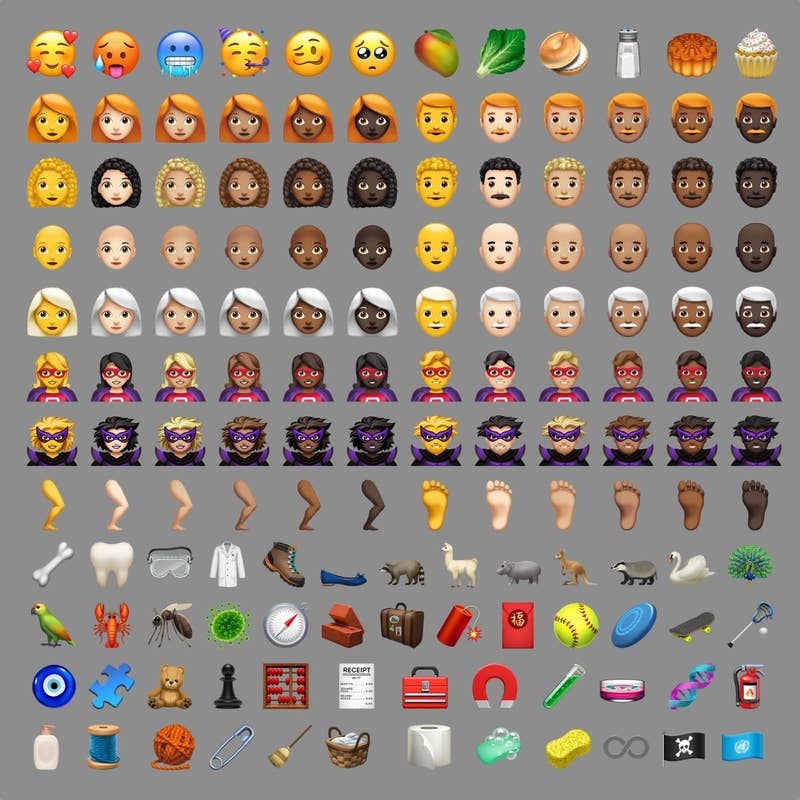 modern hieroglyphs. Personally, as a Wisconsin native I'm most excited about the Badger, but I also dig the superheros, and I like having the new smiling heart fact to mix into my good morning texts to my husband. But really, what's with the fifth one in on the top row? What is it? Drunk face? Meh? Woozy? I really need to know! Also, why did we need a leg emoji? Just a leg? Leg day? The world may never know!
November 1st! Cheers to you.