Put yourself in this scene. Snow is coming down; candles glow on the coffee table; you're wrapped up in a cozy blanket with a glass of tea, wine, or eggnog close at hand. Now, what book sits open in your lap? For me, cold winter nights lend themselves just as easily to diving into an old favorite, as curling up with a new adventure. The Christmas spirit has produced some classic reads that just don't feel quite right the rest of the year. Plus, a little extra time over the holidays, and maybe a new title or two cropping up in your stocking, might be just the prompting you need to find a new character and story to love.
I've been on a bit of a non-fiction kick myself over the last month, and while some are highly recommendable, it feels like December nights should entail a bit more whimsy and imagination than academics. Find an old favorite, or a new favorite on the list below to curl up with yourself this winter, or gift a title to a friend and know that you're giving hours of comfy, cozy enjoyment in the dark, cold months ahead. Happy Reading!
Harry Potter and the Prisoner of Azkaban: Illustrated Edition – JK Rowling
I was part of the generation that grew up with Harry Potter. Not that I just grew up reading the books, but I literally grew up with the character. I read 'Sorcerer's Stone' when I was 11, and was immediately devastated that I hadn't received my letter to Hogwarts. The final book came out my senior year of high school as the character's themselves were growing up, leaving school, and figuring out what their new world looked like. I came of age as they came of age, and I read the books again and again trying to recapture and hold fast to the magic of childhood even as I slipped into adulthood. As an adult, Rowling's personal story appeals to me as much as her fictional stories do. As a writer, it's hard not to admire a woman who wrote her first drafts long hand on scraps of paper, trained as a teacher, faced extreme poverty, was rejected by numerous publishers, and overcame all obstacles to become one of only five self made female billionaires, the first billion dollar author, with a book series, movie franchise, and theme park, along with numerous charities to her name.
But wait, I was recommending a book here! The entire Harry Potter series is being re-released as illustrated volumes, and even if you don't read them, if you find yourselves in Barnes and Noble or Target this Christmas season, they're worth picking up and paging through because they are beautiful. Illustrator Jim Kay is the mastermind behind the artwork, and somehow manages to beautifully compliment every well known moment of the story without competing against the characters and imagery from the movie, or the original pencil sketches that accompanied the novels at the start of each chapter. Reading the books as "picture books" was like reading the books for the first time. The magic is not just recaptured, but made over. A highly worthwhile revisit this holiday season, and a wonderful gift should you have a Potter lover on your list this year.
A Christmas Carol – Charles Dickens
I believe the best way to experience A Christmas Carol is either on stage, or with the original Dickensian text, preferably in a lush leather binding. Fireplace, flannel pajamas, and lightly falling snow optional, but highly recommended. Skip the movies. They're fine but just not the same. I read A Christmas Carol once a year. It is not a long book. Most of the time you have to buy a copy as part of an anthology because it's not published by itself. My husband, the first Christmas we were together, managed to find a vintage copy printed on its own and leather bound, and it was like that scene in Serendipity where they realize they've found the book after all those years. If you've never read the original text, it's a must. Dickens originally wrote it as a social justice piece (it was meant to be a pamphlet) turned Christmas story, and it was met with critical holiday acclaim. But the heart of the story has always been about taking care of your fellow man, our responsibilities to each other, and the dangers of want, ignorance, and greed. Perhaps 2018 is a great time for a little refresher course!
Becoming – Michelle Obama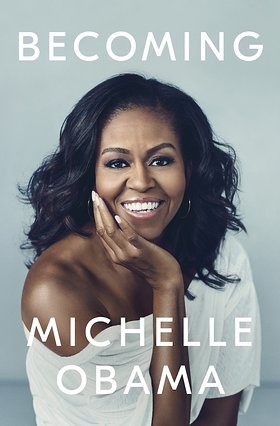 During a prior election cycle, I ran a series on my Facebook page called "I read it so you don't have to" where I read the political memoirs and musings of the major party candidates and then summarized them like they were episodes of Friends. The books were tiresome and tedious and turned me off to all forms of political literature for the next two years. I'm rarely one to pre-order a book, and though I was a Michelle Obama admirer while she served the role of first lady, and the book received a ton of pre-release publicity and hype, I probably would have held off much longer to read it had it not been for the review of a Republican pundit who had read and reviewed the book expecting to pan it in the media. Instead, he wrote: "She's a grounded pragmatist at heart, or at least so it seems from this book. And we could all use a lot more grounded pragmatism, so her contribution to public discourse with this book is (unlike many political autobiographies) both illuminating and valuable." Indeed, while the book does dabble in the political (how could it not when you're the wife of a former president) it is a significantly measured, intimate, and reflective memoir that lingers in deeply personal experiences. Those who are expecting to find Trump bashing or the furthering of a political agenda will be disappointed. This book should not be treated as a partisan story, which is likely why it's received such wide spread praise among a very divide media and populace. There are a lack of strong female voices in literature, Michelle Obama should be welcomed onto your bookshelf regardless of how you voted in the last election.
Eleanor Oliphant is Completey Fine – Gail Honeyman
Sometimes I just love book titles and that draws me in enough to pull the book from the shelf and see what it's got going on. This book is suprisingly charming and hilarious. It's also set to become a major motion picture next year produced by Reese Witherspoon, so if you're a read the book before you see the movie kind of person, you'll want to get this on your reading list sooner rather than later. Eleanor is a deepy endearing character. She's smart, articulate, and lacks any sense of filter or social skills whatsoever. She's stuck in the endlessly dreary cycle of her daily life and loves it that way, never wondering what might be beyond her normal routine. She's "fine" as she continually puts it…until she falls in love. Deeply infatuated with a man who is not deeply infatuated with her, she almost misses out on the potential budding relationship that exists between herself and Raymond the IT guy. That is, until they share a moment rescuing an elderly man who has fallen on the sidewalk.
I can't type this synopsis without chuckling to myself about the parts that were funny, but don't be mistakenly, the story is not solely comedy. Both heartwarming and heartbreaking you'll laugh with Eleanor as much as you'll cry. I don't judge a book by it's cover, but I'm glad this title caught my attention enough to make me turn the first page!
Have a title I should read? Recommendations are always welcome in the comments.
Cheers!