As yet another snow storm pounded the upper Midwest, I once again turned to my Netflix account for some cabin fever relief. At this point in our record breaking winter, I've been through most of the trendy, buzz worthy, series and movies, so when the Netflix Original dating series Dating Around popped up, it looked like the perfect, mindless compliment to another snowed in morning in Minnesota. And it…was…something
Dating Around is easy to binge watch because the episodes are only 20-25 minutes, and each follows its own lead. You can basically jump into any episode at any point in the season and immediately figure out the vibe of series. The concept is simple, one lead goes on five blind dates all in the same location. The show cuts between each date sporadically with artistic cuts that work well because the dates are staged at the same restaurant at the same table. At the end of dinner, the lead then chooses how the night continues. Sometimes they move to a new location (if that happens, it's the same place for each date). If it doesn't, then there's an awkward scene in which the lead and his/her date figure out how to get home. These encounters end so frequently with "I'm going to call a Lyft" that you start to wonder how much Lyft paid in helping to produce the series! At the end of each episode, the lead is supposed to choose one person for a second date.
Unlike network television dating shows that jet their casts to romantic locations around the world, Dating Around features their couples in their local neighborhoods, visiting the real life places they'd normally hang out in their free time. Also, unlike the more mainstreamed dating shows, Dating Around features a wide range of romantic partnerships including gay couples, lesbian couples, inter-racial couples, and older couples. The dynamics in some of these pairings seems a bit stereotypical, but it's hard to know whether that's because it's being played up for the camera, or because that's the dynamic that would have played out naturally. As it's one of the only dating reality shows that handles relationships outside of the usual 20-30 year olds heterosexual demographic, whether or not it comes off as genuine isn't really comparable.
Outside of the format and the range of relationships, however, the thing that probably sets Dating Around apart from other dating shows is how cringe-worthy it is. Whereas other shows work hard to show certain dramatic aspects and awkward moments when it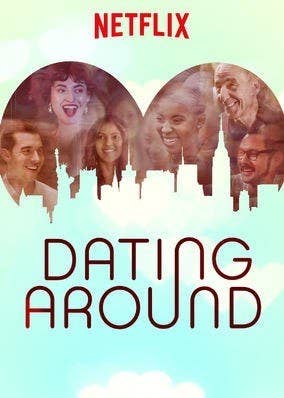 fits into the overall narrative of the show, the overall narrative of this show is how generally awkward first dates, especially blind first dates, really are. This is not the escapist fantasy that shows like The Bachelor try to sell. But, it should be highly relatable to most audiences because first dates, and dating in general, can be very very awkward!
Among the first dates chronicled in the first season is a woman so forward she orders all the food and drinks for both of them and all but forces herself on a guy, a leading lady who admits to a date that she married her first husband despite doubting that it was going to work out long term (and the blow up fight that follows), a 6'4″ man unexpectedly in heels, a phone that won't stop ringing, a woman who who suggests the lead will die soon, a half dozen awkward walk home scenes, and the ever cringe worthy "Can I get your number?" conversation…which is often met with, "Well you have my instagram handle, so slide into my DMs!" Every part Leonard, the old man's, episode is kind of cringy, but also like watching the old man from Up try to date after losing his wife…which is kind of heartwarming.
Though I generally feel awkward about watching other people deal with awkwardness, there was something very interesting about watching this kind of awkwardness play out because it was so relatable. There was no pretense that there was going to be a happy ending for any of the blind dates, and some episodes do, in fact, end with the leading lady or man choosing no one for a second date. While we may watch escapist style love stories to believe in the power of being swept off our feet and falling head over heels, Dating Around should reassure anyone currently playing the dating game that it's far more realistic and far more normal to sit through really awkward dinners trying to figure out if there's any kind of spark.
If you've found their special someone, Dating Around should make you ever grateful that you're not still playing the game!
Either way, this is the cringy dating show 2019 deserves. It's like the Netflix series version of an online dating app, and you should swipe it right onto your watch list!
Cheers!