The summer before high school, I told my parents that I wanted to go out for the golf team. We had some old golf clubs in the garage that we would use to whack balls around the backyard, but I'd never seriously swung a golf club, or been on a course to play a full round. The girls' golf season started in August, which left me a solid two months to learn the fundamentals before starting team practices and actually competing. My parents got me a set of clubs for my eighth grade graduation, an all in one set from the local department store. They weren't custom fit. They weren't the latest and greatest technology. But with a full set of irons and the three little fairway woods/driver options that came in the bag, I set off for the driving range to learn to golf.
To aid in my process, my grandparents took me to a golf pro for a personalized lesson. He watched my swing and adjusted some things in my alignment, and at the end of the lesson asked what my goal in learning to golf was. When I explained my ambitions to play on the high school golf team, he laughed sympathetically. I grew up in the heart of golf course country. There were at least three courses in a five-mile diameter around my parents' house. There were at least three subdivisions built on golf courses in my school district. To make the golf team, this pro explained, I would have to out play girls that had grown up around the game their entire life. He liked my potential, and thought I could probably enjoy the game for life, but he wasn't shy about telling me he thought the golf team was out of reach.
Fortunately, what he didn't know, was that everyone made the freshman golf team! I went to a big high school, and while only 5 girls got to play varsity and JV, everyone got to start out on ground zero together freshman year, and was guaranteed one competitive match. Driven by a new coach, and free of the weight of any expectations, I began to learn the game of golf in earnest. Despite the pro's warnings of playing against girls who had been around the sport much longer, the benefit of having only just started was that I didn't have bad habits I needed to break from years of hacking around the course without real rules or discipline. My newly minted game flourished, and having not yet made the dozens of bad shots and mistakes that eventually create crippling self-doubt in many golfers, that year, I blissfully played in almost every competitive match.
As a sophomore, I made the JV team and was practicing with the varsity team once or twice a week. That year, our JV squad won the conference championship. And as a junior, I practiced with the varsity team continuously, occasionally playing as an alternate in a matches, and winning the JV individual conference championship in an October snow storm.
I loved the role of underdog, the anonymity of rising from the bottom. I was a great alternate, enjoying playing exclusive courses without the pressure of having to be the person to make the key putt or come up with the winning shot. But when I made the varsity team my senior year, that changed. As one of five varsity players, the stakes were considerably higher. Our varsity team won the state championship a year earlier, and now, the expectation to perform was always there. Whereas I had never doubted my game when playing freshman or JV, I often doubted that I belonged with the top-tier golfers or in country club culture. Despite my own misgivings, our team won the sectional meet and advanced to the state tournament that year…where I promptly played two of my worst competitive rounds of the season.
It was during my second round of the state tournament, when facing a shot from behind a towering pine tree, that my coach gave me a brief dose of perspective that has stuck with me to this day. As I prepared to "punch out" to a safe spot to get a better look at a better shot, my coach asked if I ever considered going over the tree. I had, but it wasn't the safe, high percentage, type of shot we had been coached to take. He asked if I thought I could hit it?  As poorly as I had played, I told him I did not doubt that it was a shot I could make. He asked why I wouldn't try it? I told him I thought that he would think, and my playing partners would think, it was a crazy and stupid idea. I thought that he would doubt I could make the shot and talk me out of it. He shrugged and said something akin to, "I might doubt it…and they might doubt it…but you're the one holding the club." I picked up my sand wedge, and easily hit the ball over the tree and onto the green.
In four years I had developed a love for the sport, but not the competition. The summer I graduated, I began working at a golf course, a perk of which was free greens fees. I dropped my handicap to five, playing easy, creative, golf with little pressure or fear of consequence. I was a much better golfer away from competitive play. But when I set the women's course record, conversation quickly turned to the Club Championship, and whether I could give the reigning women's champion a run for her money. I came home from college that September to play…and I absolutely bombed. The weight of expectations, the hype, the pressure to perform was way to much, and in the bright lights, I completely collapsed.
Against what might have been my better judgement, I entered the tournament the next year as well. This time, the expectations were gone. Everyone had watched me fall apart a year earlier. Everyone knew that competition got into my head. In the face of everyone else's doubt, I remembered what my coach had said. I was the one holding the club…and I took second.
After the first day, I was tied for second. On day two, I traded shots with the women just behind me all day long, until the final hole when, all tied up again, I felt the mounting pressure to perform start to build. On a long par 5 that required a long drive followed by a blind second shot, I hit three bad shots that left me 200 yards from the green, while my opponent sat comfortably on the edge, ready to chip on. As I considered my options, that moment from the state tournament washed back over me. The obvious shot was right in front of me, but it was not safe. I very clearly remember calmly thinking it was the only shot that gave me a chance to break the tie. I took a five wood and ripped it blindly over a hill and towards the green, running to the top of the crest just in time to see it bounce up and roll to within four feet of the flag. I'd putt for par, and, place second.
A year later, I found myself back on the tee box for my third championship. Three years after expectations had crippled my competitive spirit, I won the championship easily taking a four stroke lead into the second day, and eventually winning by twelve strokes.
This may seem like an awful lot of sports summary for a blog that hasn't been particularly sporty to this point, but I can think of no better set of circumstances in my life that have taught me the complicated relationship between doubt and expectation than these. Doubt and expectation can exist as opposite ends to the same spectrum or as paradoxes unto themselves. In some ways they counteract each other:I either doubt that I can accomplish something, or I expect to be able to do it. I either doubt someone will follow through, or I expect their commitment.
In other ways, they counteract themselves. If I doubt my own abilities, I'll be less likely to succeed. Yet, I've found personally that if others doubt my ability to do something, I will be fiercely motivated to achieve. However, this premise has its limits because listening to too much external doubt, may cause internalization, and thus create self-doubt.
Similarly, if the expectations of others becomes to weighty, the pressure to perform can become overwhelming and stifle the ability or eventual outcome. However, if I expect something of myself, I can be highly motivated to work to succeed at a high level, despite what anyone else might expect of me.
Thus, there seems to exist a sweet spot, a grey area that exists somewhere between doubt and expectation. Here, our own self-assurance is greater than others' doubt. Here, our expectation of self is more keenly in focus than others' expectations of us. Ideally, our expectations of ourselves would always be high; our self-doubt would always be low.  How often do we strike that ideal balance? Instead, I think we mostly live in the grey area, teetering between doubt and expectations, our own and other people's and trying our best to rise up when we can.
Being cognizant of this balance should impact both the way we treat others, and the way we treat ourselves. It is right to hold people to a certain standard, to expect a certain level of common courtesy, decency, and, in some cases, ability or performance. But remember that it's also said that "expectations are the thief of joy." To expect too much, or to set expectations unrealistically is to potentially add undo stress and pressure into situations that would otherwise be perfectly manageable.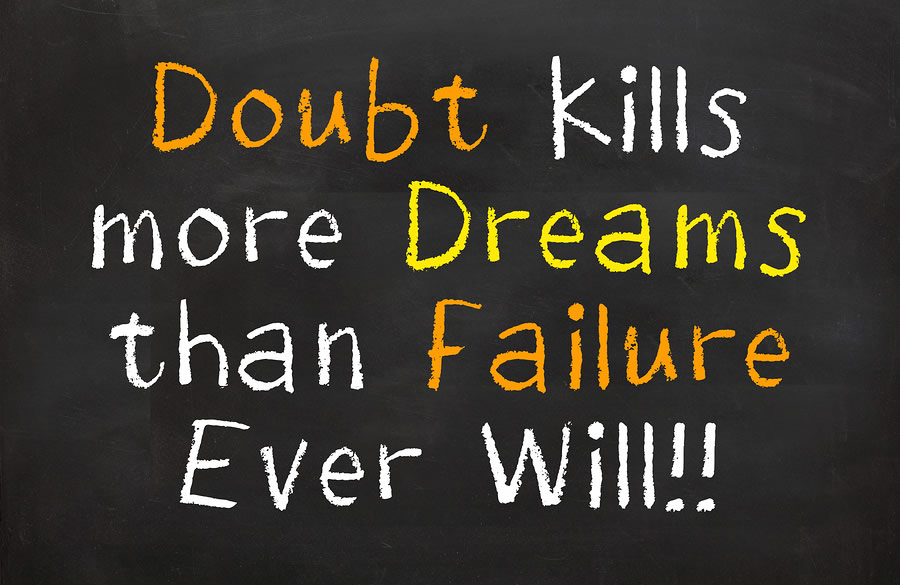 Similarly, we must be aware of the strange power of doubt to both motivate and demotivate. I recently began to doubt my ability to complete  major project through to the level of expectation I would generally hold myself to. Self doubt can be completely debilitating, but when someone else told me they also thought it was unlikely I'd be able to finish, I was immediately invigorated to reinvest and see it through to the end. Does this mean we should throw around doubt carelessly in a strange, backwards, attempt to inspire those around us to greatness? Probably not. But it is strange to think that my self-doubt was so easily replaced with someone else's, that it quickly became confidence in the face of adversity.
More than anything, we need to remember that whether dealing with our own doubt or other's, our own expectations or someone else's, we hold the club! At the end of the day, we each take our own shot, make our own choice, and take our own chances. Whether someone expects or doubts the outcome is of little consequence when we're the ones holding the reins. Ultimately, standing behind that pine tree and choosing to take the safe shot and play to a safe spot for a better look, or hitting it over the tree wasn't really about selecting the better golf shot. It was about taking ownership of an opportunity in the face of doubt and expectations. In doing so, the outcome may actually matter very little.
Sometimes it's not about how you do it, but that you make the choice to swing the club at all.
Cheers!