Recently, a tenant moved out of one of the small, one bedroom, rental houses we own. It was a long time coming that this renter move on, and we were relieved that she left without a fuss or a legal fight.
Relief…oh what a relative and short-lived emotion!
Shortly after she left, Josh went over to the house to change the locks and survey the amount of work needed on the property. This part of the rental management business never ceases to amaze me. Having rented a number of apartments myself, I can count the number of things I left behind in apartments upon moving on one hand.
An area rug
Curtains that had been in the apartment when I moved in
A set of lawn chairs I left in a storage closet by accident
And that's it…all I have ever left behind in an apartment when I moved on to a new place.
When we have tenants move out, they leave unbelievable amounts of stuff behind. Furniture. Dishes. Food. Mattresses. Clothing. You name it, Josh has probably found it. That includes the stuff you don't want to find either, like a bathtub full of dirty diapers! This property turned out to be no exception. The scene post move out day, even after the previous renter had loaded up a U-Haul full of stuff to take with her, was a disaster zone!
Fortunately, while I get really angry about people living and acting like inconsiderate pigs, my husband has a lot of patience and optimism, and immediately starts seeing the good that will come out of the situation. Thus, my tactic of storming around the place commenting loudly to myself about how disgusting it is that people allow themselves to live in squalor, all while figuring out how to knock out a wall in the bedroom to make more living space, is nicely balanced by his tactic of getting the work trailer, and stoically loading up all the trash without complaining much about it at all.
We could be an excellent HGTV duo. I think "Renting Rochester" has a nice ring to it. How do I set this up!? And will they bankroll these projects for us?!
With most of the garbage gone, and a wall removed in the bedroom to free up some space, I didn't hate the house quite as much any more, but I wouldn't put anyone in there to spend the night! So thus begins the design process of short-term rental unit #4 which will shortly join our list of other properties: "The Cascade Creek Guesthouse," "Rhythm and Snooze," and "The Little House" on our AirBNB listings page.
The design process for each of our rentals has come about in different ways. The first, "Cascade Creek Guesthouse" required a complete kitchen gut job in the process of preparing it for rental. Josh took on the majority of that project, with some limited input from me on the island and spacing. But mostly, it was my job to touch up paint and pick out decor. As we live at the end of one of the numerous bike paths in Rochester, its bicycle theme was a natural fit.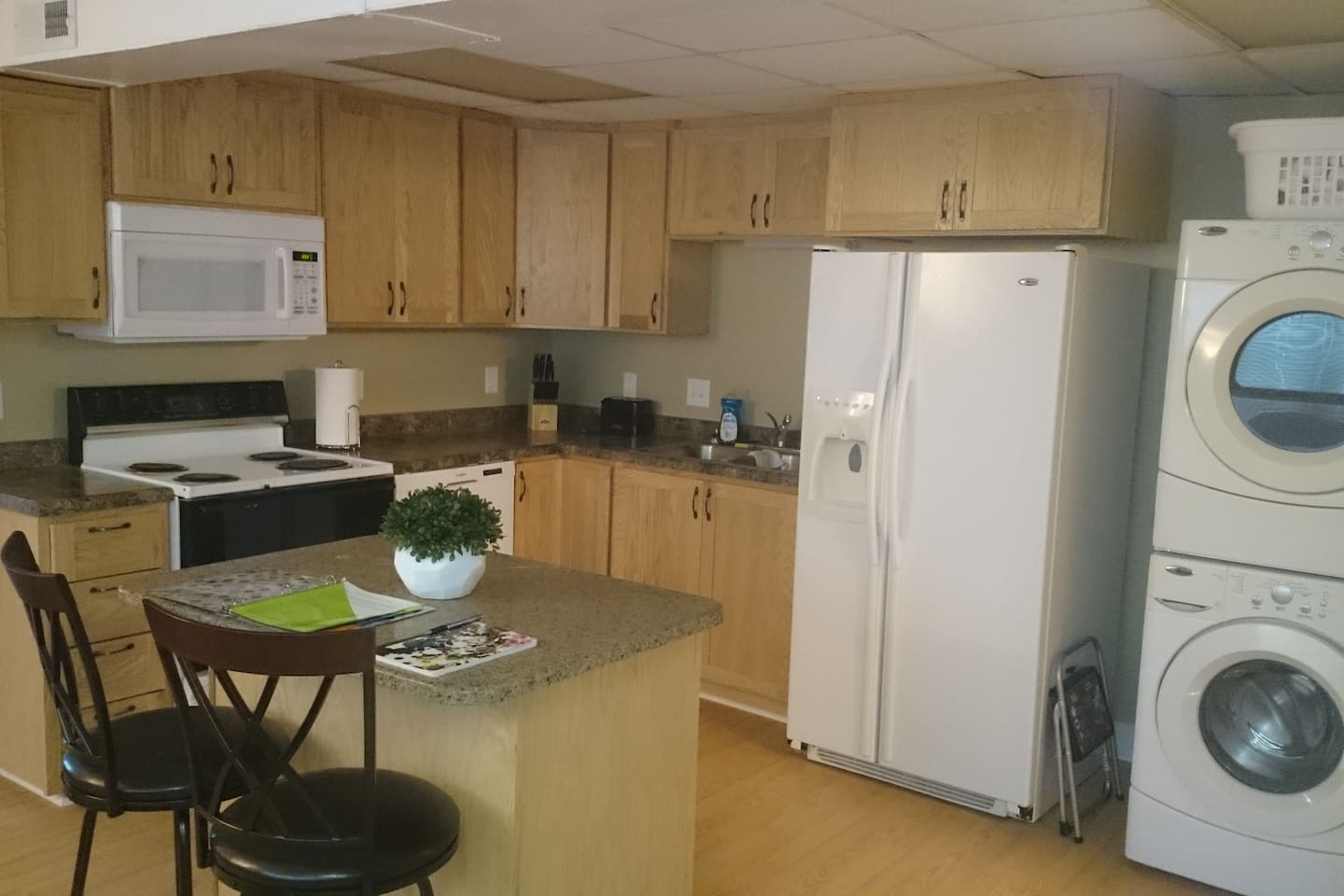 Our basement unit, "Rhythm and Snooze" was a different kind of design project entirely. The basement unit started out as pretty dark and closed off, with low ceilings that made the whole place feel sort of like a cave. Like the guesthouse, "Rhythm and Snooze" started with a kitchen gut job as well to get rid of old upper cabinets that were closing off the space.
With the kitchen opened up and reframed, Josh gave me interior design control on the look and feel of the space. I'm not sure he totally understood the vision when I brought home the first paint chips, but I was insistent that "the cave" feel could be overcome with a really funky, music inspired, kind of blues lounge vibe. A new kitchen layout, a lot of paint, and some really quirky artwork helped bring the look together.
Admittedly, "Rhythm and Snooze" is probably my favorite of the three rentals.
This fall we launched "The Little House," which honestly required the least set up work of the bunch. The Little House had been a total gut job when we bought it five years ago, so structurally, things were already sound, and it had been pretty well taken care of by our previous, long-term tenants. There wasn't a lot of design that went into the property, just finding the right furniture pieces to get it set up for what people may need when they visit.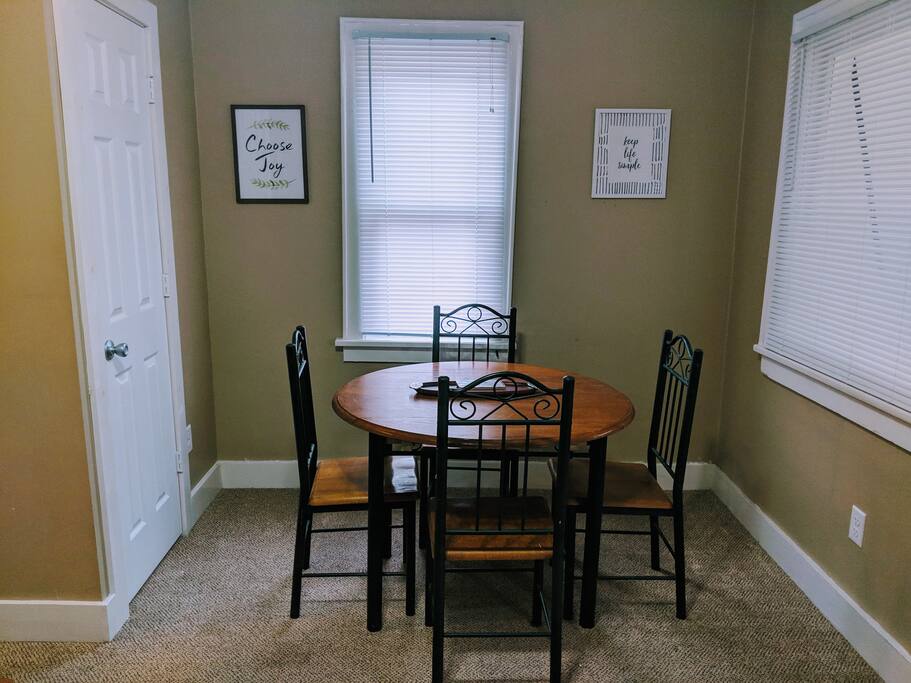 This new project provides a bit of a challenge on all accounts. A little bit of structure needs to be redone in order to make the bedroom space functional. A LOT of interior design work needs to be done to turn a very grubby and dingy living space into something welcoming and cheerful. Inspired by a very weirdly textured bathroom wall, a retro/geometric theme keeps coming to mind. And a trip to Menards inspired some very bold paint color choices that Josh flinched at less having seen how it played out in the basement (I think!). Still, we were missing that unifying link. What ties a teal room to a mustard colored room to a peach room to an eggplant room?
The answer? The right artwork! A big shout out to Lantern Press for some amazing, retro graphic design prints featuring Minnesota! They helped these design boards come together in one cohesive theme, and now "The Little House" will have a twin, "The 'Minne' House," just three doors down!
This slideshow requires JavaScript.
While I'm not quitting my day job, I have LOVED parts of each of these projects, and though none of them are what I'm choosing in my own home now that Josh and I our building for ourselves, it's been fun to come up with a "look" for each new space.
I hope if you're coming to Rochester, and looking for a place to stay, you'll consider a visit to one of our rentals. You'll have a private, clean space. A comfortable bed to sleep in. And you just never know…maybe a bottle of wine in the fridge!
Cheers!