Summer: patio sitting on warm afternoons, frosty drinks, grilling out, flip-flops, hammocks in the shade, and if you're lucky…vacation.
Even if you're not hitting the open road or jet setting to distant lands, summer provides a chance to relax a little, enjoy a late night out in the backyard around a bonfire, take advantage of a long holiday weekend, or maybe even a midweek day off (like a Thursday 4th of July is likely to give you!), and soak in all the vitamin D you may have missed during a long brutal winter.
Though last year we travelled extensively in the summer, this year with the new house project, we'll be staying put and working long summer hours to make the most of the warm, cooperative weather we hope shows up one of these days! And, while the work days will hardly feel like a vacation, every summer I give myself a mental break by indulging in some purely frivolous, guilty pleasure reading.
While my recent reading list has included Michelle Obama's memoir, But What if We're Wrong – an alternative look at the way we preserve history, and at least running books in preparation for my marathon, my transition into summer reading list includes far less philosophy and far more nonsense. There's a reason there's a whole sub category of literature dubbed "beach reads" or for "poolside." So don't be ashamed to pick up one one of these "guilty pleasure" reads this summer. You might find a little romance. You might find you learn something after all. Or, you just might find a little dose of summer escapism to pair with your vacation!
A non-fiction pick
A book with the phrase "guilty pleasure" in the title may seem a bit obvious, but whereas you might watch The Bachelor for all the on-screen drama between the lead and his/her potential dates, this book is worth a guilty pleasure for all the behind the scenes tea that gets spilled!
Amy Kaufman is a Bachelor fan and writer from the Los Angeles Times, who actually found herself banned from official ABC franchise events after producers and show runners decided her coverage of the series was a bit too "real." Instead of publishing newspaper articles, Kaufman began interviewing producers, celebrity guests, and contestants, putting together a tell all book that dives deep into the salacious details about the alcohol, gossip, and drama fueled world of the reality TV show. From the sexual assault claims that stopped production of Bachelor in Paradise, to the surprising lengths producers will go to in an effort to produce drama and tears, Kaufman likely isn't winning any roses from the ABC reality series, Still, she definitely leaves a lasting impression!
A romance pick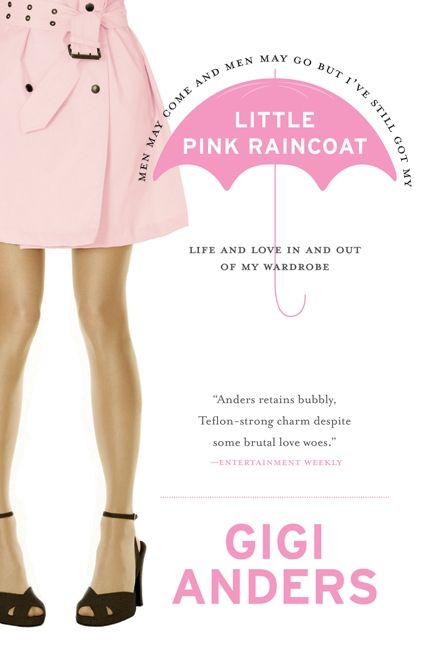 Maybe you thought guilty pleasure romance reads all had to fall in the Fifty Shades category. Not the case with this book which first came to me through one of those through the mail, book exchange, things that you think are a scam, but occasionally end up being real.
A little bit Sex in the City, a little bit Confessions of a Shopaholic, Gigi Anders chronicles ten escapades (and sexcapades) through the lens of one fabulous and well stocked closet. From a fabulous pink raincoat meant to lure a commitment-phobe into a long term relationship, to a pair of sassy peach undies, Anders characters come to life in living color and wardrobe! Tucked in between the laugh out loud moments, are small doses of reality that you'll be hard pressed not to see yourself (or a friend) in.
A quick read at just under 300 pages, this one tucks nicely into a beach bag or airplane carry-on. Plus, it's the kind of book you're going to want to share around to your female friends. (So if you want my copy, just speak up!)
A YA fiction pick
I was embarrassingly invested in this story once I started it, and as it was the first book of a series, proceed to race through the remaining books in lightning fast succession…despite being relatively confident about how the story would ultimately end!
This book has romance, politics, royalty, celebrity, reality competition, an underdog hero, and drama galore. So if you've ever been intrigued by People magazine headlines in the grocery checkout line, there's at least one plot line likely to pique your interest.
It's young adult nature makes it's story telling style far from Pulitzer Prize worthy. Though compared to, say, Twilight, it's highly readable. But perhaps it's true "guilty pleasure" status is best summarized by this review on Goodreads:
This book is like those little sachets of Nutella you get as free samples with like a magazine or a packet of Ritz or something, in that it's empty calories lite but seriously delicious. It's really small and really bad for you and not really that satisfying but shit if you don't enjoy it. Because, no matter how superior you think your tastes are, you will enjoy this. Even just on a voyeuristic level.
A fantasy pick
Admittedly, I don't read a ton of fantasy. It's my husband's area of expertise, as he recently cleaned hundreds of books out of his office in an effort to "Marie Kondo" the place and figure out what truly brought his bookshelf joy! We played this game once before when we moved all the books from shelves in the back of our closet down to the office, and both times he stopped and talked about the vampire series Anita Blake by Laurell K. Hamilton.
I will take no credit for having read this series because vampires aren't generally my guilty pleasure go-to. However, seeing as the first book in the series is called Guilty Pleasures, it would seem to fit the bill! In the interest of full disclosure, when asking Josh about the series for this post, I described it as follows:
Me: "What was that vampire series you had that started good and got kinky and weird?"
Josh: "Oh…Anita Blake!"
So it is what it is! If vampires are your thing, Twilight meets Fifty Shades of Gray, seems like a guilty pleasure equation if I've ever seen one!
A science fiction pick
Like many guilty pleasure reads, Cyberstorm isn't going to blow anyone away with it's amazing literary merit, but it is a surprisingly good piece of storytelling that walks the line between science fiction, and science fact. That is to say, the premise of Mather's book…that is, a cyber attack wipes out all communication and power in NYC at the same time that a deadly epidemic spreads across the country and a massive blizzard cuts off the east coast…is a perfect storm of worst case scenarios built on contemporary, news worthy, headlines cropping up more regularly now than ever.
Cyberstorm is part science fiction, part mystery, and part thriller, a page turner destined to eventually make it's way to the big screen, despite the fact that Fox just let it's option lapse. A The Day After Tomorrow reboot with a technology twist, read it before you see it..preferably in the sun by a pool where you won't have to worry about the freakish blizzard conditions of the novel!
So find yourself a quiet place, pour yourself a glass of wine, and unapologetically indulge in a little guilty pleasure summer reading. It might be just the mental vacation you need, even if you're back to work the next day!
Cheers!