Here's a quick tip for seeking out a good bottle of wine!
If you have someone staying with you from Northern California, and that person also happens to be a self described wino, and they offer to be the one to run to the liquor store to grab a bottle of wine for the night…let them do it!! Then, make a mental (or maybe even scratch it on a post-it) note of what they chose because chances are they curated that pick with a little bit different lens than you would have!
Such was the case last weekend when we hosted our friends for the marathon, and while offering to pick up the pizza, they also offered to grab a bottle of wine. Now, I was not drinking the night before the race, but I was tempted by the pick for three reasons:
It was actually a WINE I KNEW! Cline Old Vine Zinfandel is a bottle I have on my wine rack right now, and one of the purchases from the "What's on the Wine Rack?" post. Maybe I'm a better wino than I thought!
I LOVE ME a zinfandel. AND
It was a really gorgeous night outside on the patio with the fire pit going, and artisan pizza, and it just REALLY called for a glass of wine!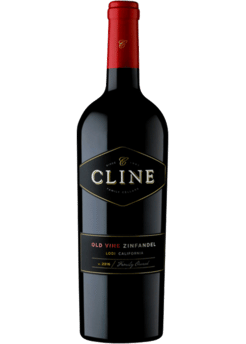 Turns out my Northern California friend picked it because she has spent time at the Cline Vineyards and knows all about it. Like I said…if you've got a CA friend, they might have a different lens through which they're picking wine!
Cline Vineyards are family owned and operated, and they are run sustainably through a farming method that Fred Cline developed not only for his grape vines, but also for other fruits and vegetables grown and harvested on the family's property. The wine is fresh and fruity with notes of blackberry, strawberry, and plum. Strong hints of black pepper and vanilla round out the body of the wine, which has a slight oakiness, and enough acidity to make you pucker a bit on first sip. A little decanting mellows the flavors out a bit, and there is a nice smooth, lingering finish, on the other side of all those bold flavors.
14% ABV and at an approachable price point of $11-$15, this is one bottle that we'll be keeping on hand for future patio sits and bonfire nights!
Cheers!