Since taking over the Aribnb's this summer, I've had a love/hate relationship with the prospect of managing them. On the one hand, it's nice to communicate with people, to be hospitable and helpful in answering their questions and making sure they have what they need, and in making sure the little extra touches that will make their stay great are all in order. On the other hand, it's really demoralizing to go through all of that work and feel like you went the extra mile for people only to see it backfire in a bad review.
In all honesty, I take a bad review way too personally. Josh will be quick to point out that, thanks to our new found love of the enneagram, that this is very typical "1" behavior, and that I need to teach my inner critic to shut up. Easier said than done. What I'm actually teaching myself to do is not immediately lash out at the guest who has left the review, and to temper any return comments I make on our rental page. It's a fine line to walk wanting to insist that your rental really is a quality option and that you really are a gracious host while also not lobbing a passive aggressive attack at the guest calling out their own inadequacies. Ok…it's not exactly a fine line between the two, but it can be hard line not to cross letting hurt feelings lead the way when addressing concerns.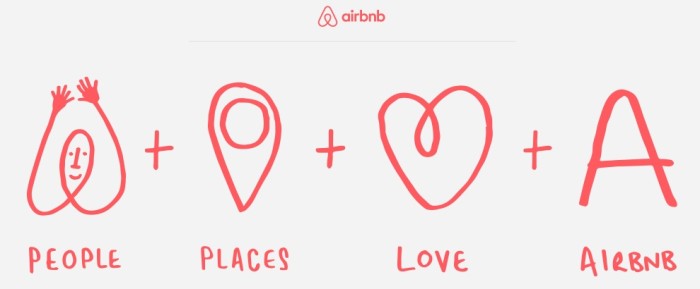 For the most part, all our rentals have excellent reviews, which makes the occasional bad one both an extreme outlier that I should be able to comfortably ignore and extremely infuriating at the same time. Like, if 54 people give our home a 5 star rating on cleanliness, and the 55th person rates it a 2 claiming it "wasn't up to their usual standard of clean" I should be able to recognize that may be more of a reflection of them than us. However, Airbnb operates on the premise that the only "good" review is a 5 star review. That means that even a complementary four star review hurts your listing in the long run. So instead of perspective, I often get a twisted knot in the pit of my stomach while thinking about how this person that I've never even met before must have judged me based on staying in my rental.
For good, bad, or otherwise, however, when reading less than stellar reviews, the thing I most often come away with is that people did not enjoy their experience because they didn't fully understand what their experience was going to be. We're very upfront about what our apartments and guest houses offer. So if, as a guest, you haven't done your reading and research about what's available, it's difficult to try and change the offering once you get their to accommodate what you thought you were getting.
As hosts we really enjoy sharing our rentals with people from around the world, and we want you to have a great time if you stay with us. Even if you don't stay with us specifically, we want you to have a great experience wherever you travel and whoever you stay with. So here are four real reviews that we've received, and four lessons they should teach you, the traveller, about the booking process and how to make sure you're actually getting what you want! Not every stay is going to be perfect, but if you heed these few pieces of advice, you can least ensure that you've given your hosts the best chance possible to accommodate your needs, and given yourself the best chance of actually booking a place that meets your requirements.
Review #1
"It was a very warm, humid day and the small house strongly smelled of dogs and carpet cleaner. (We are dog owners, we get it – but we noticed an odor)…Our suggestion would be to tear out the carpeting and not make your rental pet friendly." 
Let me tell you why our rental units are pet friendly. One…people like to travel with their pets. Two…two of our properties are at the end of the city trail system and a large park, and two of our properties have large fenced in back yards, so all are well suited for dogs. Three…we have any number of guests who come and stay for the Mayo clinic who send us messages like "I'm coming in for a round of chemo therapy and was hoping to bring my dog for companionship…" We are not monsters!! We will let you bring your dog!! All of our properties are listed as pet friendly on their rental pages, and all pet owners have to notify us if they're bringing an animal with them.
If you're bringing a pet with you, it's obviously good form to let your host know, but that's not really where the bad reviews come from. The bad reviews stem from people who didn't realize the home was pet friendly, and then are offended by any sign that a pet was ever there. The aforementioned review wasn't wrong. When it's 90 and humid, a home that's had dogs might have the faint odor of dog. If that's going to bother you…don't stay in a place that hosts dogs! The same review went on to say that they didn't like that there was a stain on the carpet that they assumed was dog urine. It's possible that it might have been at some point. We find stains on the carpet after guests who don't have pets as well. We do our best to treat and clean each stain as it happens, but it's not possible to shampoo the carpet after every guest…and if you look at our $15 cleaning fee, you honestly shouldn't expect that!
Booking Tip: If you're traveling with a pet, make sure you book somewhere pet friendly and let the hosts know what kind of animal you're traveling with. If you're not traveling with a pet and the potential suggestion of pets on the property is going to offend you, DON'T book a pet friendly rental. 
As a final note, we did not tear up the carpet and make our rental house pet un-friendly. We instead doubled down and now offer complimentary Milk Bones to our pup guests.
Review #2
"A note to those with fragrance sensitivity: communicate ahead of time if you are sensitive to the smell of Febreeze – I neglected to do that and regretted it!"
I'm putting these two reviews back to back on purpose because this is the epitome of Airbnb hosting. One night it's the house is too musty and smells like a dog. So we spray some Febreeze to make sure the apartment freshens up. And the next guest has a problem with Febreeze and perfumes and immediately messages us that the apartment smells to strongly of cleaner. Can I just direct your comments and complaints to the woman with the dog smell concerns because that's where this conundrum starts!
That said, if you have a sensitivity or allergy that your host can somehow help you avoid, it's fair to let them know. Also, if there's a sensitivity or allergy that YOU can somehow avoid, that's also on you to avoid. For example, if you're allergic to dogs or cats…staying in a pet friendly rental that has likely hosted dogs or cats may not be for you. We clean throughly after every pet leaves, but if you have a heightened sensitivity, we probably can't guarantee every speck and trace is gone. If it's something we can control, like not spraying certain cleaners when we prepare the property, certainly let us know. If it's not something you shared with us, I'm sorry that we couldn't anticipate your very specific needs.
Booking Tip: Communicate with your host if there's something they should know about getting the house ready for you. Make any requests reasonable, (for example, please don't use bleach when cleaning the bathroom) and only request things that are necessary for health or well being purposes. If it's something you personally can control, then it's up to you!
Review #3
"The bed in the bedroom is a memory foam mattress and very comfortable to sleep on. Unfortunately the other bed available is only a futon, which we weren't expecting and not as comfortable on." 
When a host sets up a listing, they are asked to list the number of guests their home can accommodate and the configuration of beds that allow that number of guests to stay. For example, every single one of our rentals sleeps 4, with a queen sized bed in the bedroom and a queen sized sofa bed or futon in the living room. That looks like this on our listing page:
If we've given you that information up front, it shouldn't surprise you when that's the arrangement of the house when you get there. If that's not going to work for what you need, that's ok. But if you book it assuming it's something else and then it's not, that's on your assumption, not our listing.
Also, a number of people book the rental seeing it sleeps four with two beds, and assume they'll blow up one or two air mattresses to make up the difference so they have four sleeping areas. If the listing is for four people in two beds, in a one bed room house (as three of our rentals are), there may or may not be all the extra floor space you need for two more air mattresses. Accommodates four guests does not necessarily mean accommodates four queen sized sleeping areas.
Booking Tip: Figure out how much space you need and/or what kind of space you want and look at the sleeping arrangements BEFORE you book. If it's important that everyone have their own bedroom space, don't book a place that counts common area among their major sleeping areas. If you think you'll just set up air mattresses to make up the difference, maybe ask your host in advance if there is a space that would easily accommodate that desire. DON'T complain about sleeping arrangements that were clearly laid out on the listing page later in your review!
Review #4
"Cute apartment with trendy decor. However, only set up for one guest. My friend and I ended up having to share amenities (towels, soap, etc.) as it didn't appear they were prepared for two people." 
This is a pet peeve…and a big one. When you search for units on Airbnb, it asks how many guests will be staying. This is the moment where you as a guest need to give us the information as a host that we need to set up you accommodation appropriately! So many people that are traveling with another person, book as "one guest" because they assume they'll be sharing a bed so it won't matter.
Here's why it does matter. We look at that number and prepare the unit accordingly. So if you say one guest, we'll leave one set of towels on the end of the bed. We'll leave one set of hospitality soap/shampoo/conditioner in the bathroom. We'll leave one set of snacks in our welcome box in the kitchen. Then you show up with two people, and it's fine….except we've only given you one set of what you need. And if you don't ask for more, which many people don't, then you feel like we slighted you on your stay, even though we never had the information to make sure you both had what you need.
Worse yet is when people don't mention a second guest who plans to sleep on the futon, and so we don't know to leave out extra pillow/blankets/sheets/etc. to make up the bed. There are extras in the unit, but many people don't did for them, instead feeling like we left them unprepared.
Booking Tip: Make sure you give your host the accurate number of guests that will be visiting. If the number changes, you can update your reservation, or just send your host a message to let them know so they can plan accordingly. If you don't let them know, you can't be upset by the fact the rental is only set up for the number you originally gave. 
At the end of the day, we enjoy hosting and we enjoy staying in rental shares, but as good hosts that try to be helpful and communicative, we also understand why it's important to be good guests that are helpful and communicative. For that reason, my biggest booking tip is probably something that comes less from one particular bad review, and more from what we've learned cumulatively from a variety of people's feedback.
FINAL Book Tip: Before you book an Airbnb, decide that that's how you actually want to travel! Remember that you're sharing someone's home, in some cases a home that they left so that you can be there. If it's going to bother you that there are personal touches around, maybe don't stay in an Airbnb. If someone else's choice in decor or paint colors is going to bother you (that's a real thing a person complained about!), maybe don't stay in an Airbnb. If it's going to bother you that we don't offer robes or hotel flip flops (again, something somebody actually asked for), maybe don't stay in an Airbnb. OR, check out Airbnb LUX for a luxury vacation rental. 
If you want some place a little quirkier, a lot homier, and a bit cheaper than a hotel stay… If you want to experience a place like a local and see an actual neighborhood instead of a tourist center…
If you don't mind communicating with a host who's a real person invested in your stay and not a generic concierge…
Then Airbnb is for you!
Cheers!