What wine do you serve when you're picking something to please a crowd? Not everyone is a red wine drinker, so white seems to be a safer option. But among the red wine drinkers, white wines can come off as too sweet or syrupy. A classic chardonnay might be a good bet, but some people don't like too much oak or "butter," and while champagne is classic, it's not great in every situation.
My crowd pleasing wine of choice is a Riesling, and while you can certainly find Rieslings that would be far too sweet for dry red wine lovers, there are a whole host of Rieslings that fit in the semi-dry category that are light bodied, dry enough for the red wine lover, just enough fruit and juiciness for the white wine lover, with low acidity and tannins that make them highly lovable and drinkable.
For this week's Bachelorette Finale, I picked two Rieslings, one for each night of our viewing party. Admittedly, while Riesling is my go to for a group wine, I picked these two particular Rieslings because of their interesting bottle designs. But the wine inside those bottles did not disappoint. If you're looking for a cool, refreshing, end of summer wine that's not flashy, complicated, or expensive, these two choices are sure to satisfy!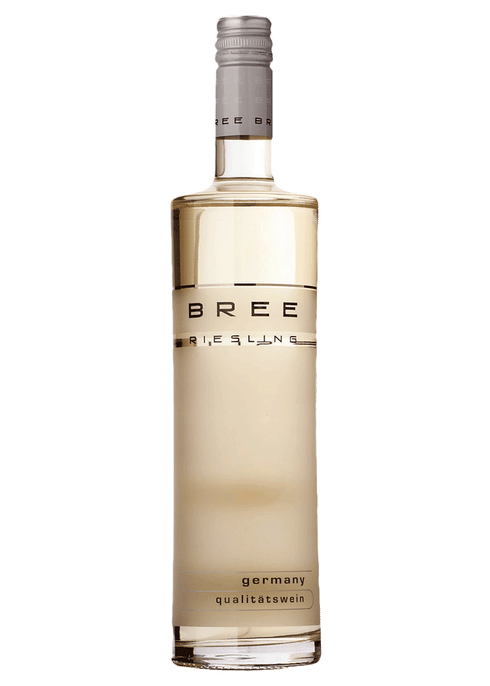 First up is Bree Riesling which wins the night for looking more like a bottle of liquor than a bottle of wine. Light and crisp flavors of green apple and lime dominate the palette, though the wine is not particularly tart or acidic. It's not overly sweet or too dry, and is very refreshing when well chilled. I'd say it's a great patio wine, though we were obviously inside on finale night. I'll be adding this one into our wine rack rotation, particularly as summer winds down. One of the wine makers recommended pairing is Asian food, and we paired it with dumplings and sticky noodles for dinner, which worked great. It also flowed well with dessert later. In truth, it would probably work with just about anything, and at $11, the price is right to try it again and again.

Night two's bottle of choice was Clear Night Riesling.  From the same region as Bree Riesling, Clear Night featured many of the same fruit notes, and was again balanced by a slight crispness that was neither too sweet nor too dry, though of the two, this one was slightly sweeter than the Bree. This may be the "juicy notes of pear" referred to in the official tasting notes. We didn't bring this one out until after dinner, so it paired with our Trader Joe's Windmill Cookies and sea salt caramels just fine. I imagine Asian cuisine would work well again, and the cool crispness would off set spicy Mexican quite nicely as well. Another great patio sipper, a bottle of this at your end of summer get together is sure to delight!
Cheers!