Starting tomorrow, Josh and I begin to phase back into our school year routines, and he starts taking back over the daily operations of the Airbnbs. While my taking them over during the summer afforded a lot of valuable time for him to be at the house project and not driving back and forth from Pine Island to Rochester, I'm more than ready to go back to my regular day job and leave the real estate management back to Josh.
If it was just making beds all the time and folding laundry, I'd probably be able to muster a bit more enthusiasm about going on for another few months. But it's also about mowing the lawns, scrubbing the bathrooms, cleaning up after people's dogs, cleaning hair off of everything, answering messages 24/7, and the reviews…oh brother the reviews!
I've said it before, and it holds true again, 80-90% of our reviews are great, and even those that aren't really shouldn't ruin my day. But you know that feeling you get when it's performance review time at work? That's what it's like every. single. day. that a new review comes through and we wait to see what people are going to say about the work that we put into making sure our guests had a great stay.
As I wrap up the summer, here are the head scratching, preposterous, reviews that were shared so far in August. If you're a host, take heart that, according to our friend "the other Josh", 15% of people will not be pleased whatever you do. If you're a guest, know that hosts want you to be happy, and take your concerns seriously, but don't be that person!
Review #1: "We believe there is an animal under the staircase in the backyard. We saw something run under there, so just avoided the area the rest of the stay, but recommend you have it checked out." 
If there's a pest in or around the house, we obviously want to take care of it. However, the staircase in the backyard is open coming off an open deck like this: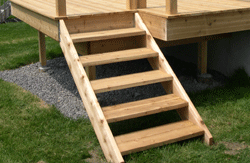 so if an animal ran under there, it probably ran right back out, because there really isn't anywhere for it to go. If you don't like the fact that you saw an animal go there, you could probably avoid the steps and be just fine. But also, you could probably also see when the animal wasn't under there anymore because the whole this is literally wide open!
Review #2: "I'm not sure how you would do it, because the space is well used in the living room and there's not really room for it, but we'd love a chair or recliner in the living room. I'm not a fan of futons, so would have loved another seating option, but there's not really room for one. We'll be back in October." 
Our rentals aren't fancy, but we have done our best to make the good use of the space we have to create comfortable accommodations. If something isn't as comfy as you'd like, it's fine to let us know, but to say "we didn't like what you did…you should have done this…but we're not sure you could have done this…" doesn't get us anywhere! Also, when you show back up in October, don't be surprised if there's not a recliner in the living room. It's not that we weren't listening to the feedback, but as they said, "there's not really room for one!"
In that same vein…
Review #3: "We've stayed here twice, booked a third time this fall. The first time I slept in the bed and my friend on the couch. The bed is SUPER comfortable! This time I slept on the couch with the memory foam pad provided by the hosts. It was not as comfortable as the bed. Wouldn't recommend it. We'll be back in a few months!" 
When you come back, will you be fighting over who stays in the bedroom, because the couch will be the same! If we changed the furniture after every guest's review, we'd have a garage full of lightly used furniture and wouldn't be making any profit on the rentals. If you've slept on the furniture and made the choice to rebook the house to sleep on the same furniture again, it can't be bad enough to warrant that kind of feedback. Also, don't be disappointed if the couch is just as comfortable/uncomfortable as it was the last two times you stayed.
Review #4: "The air conditioner unit didn't seem to working optimally. We had a hard time getting the house to cool down." 
This would be totally valid…had they not had all the windows open during their stay while they were trying to use the AC to cool the place down!
Request #1: "We see that your place is pet friendly. My husband has a dog allergy. Could you make sure it's extra clean for us?" 
🙄
We appreciate all our guests! We're happy to host them! Is it necessary to comment on every triviality of the stay? We certainly don't think so. We're unflinchingly kind when we stay at someone else's Airbnb, and I'd implore you not to be that guest that picks apart the hosts you stay with for things that either aren't important to the overall stay, or things that are outside their control. I can't control where the squirrels run in the yard. I can't make more space in the living room. I'm not buying a new sofa before you get here next time. I can't make you close the windows while you run the AC. I can make sure there are clean sheets on the bed, the bathroom is scrubbed, and the floors are mopped and/or vacuumed. You can sure ask about other things…but just don't review other things! 
Cheers!