As we cruise towards the end of summer and start of September, it's time to starting sliding into the fall routines that make this time of the year so comfy cozy. Give me leggings and a baggy sweater on a Saturday morning…or really all day Saturday…or, let's be honest, I'll try and pull off this look any day of the week! Give me skinny jeans and boots. Give me hoodies and Burberry scarves. I'm here for all of it.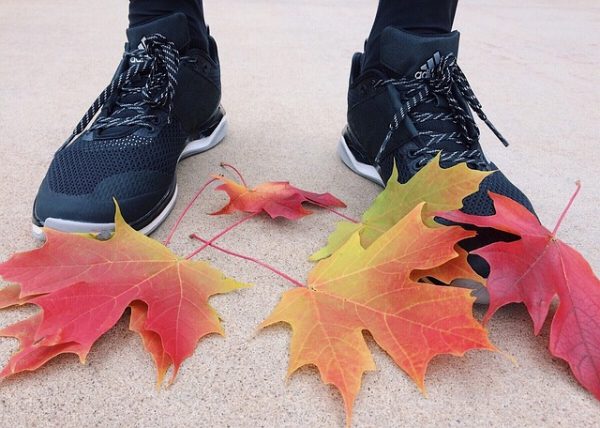 Fall can also be a time to slide into some of the indulgences of the changing seasons as well. I'm looking at you caramel apples, Halloween candy, pies and pumpkin spice. And as the weather changes, especially up here in the Midwest, about the time I start sliding into those seasonal treats, I start slipping out of my summer activity and workout routines. I find it so much easier to motivate myself to get up and move when the weather is nice and I have the freedom and flexibility of long summer days. I find it so much more important to make myself get up and move when the days get shorter and darker, the weather takes a turn, and my whole mood might depend on whether or not I got a little sunshine and exercise.
Such a paradox.
Fortunately, the changing of the seasons can coincide nicely with a change in routine, which is sometimes just the jolt your system and workout game needs to stay motivated and moving. For me, that shift came much earlier this year, as following my 11 week marathon experiment, I wasn't feeling particularly motivated to get after the summer running season. There's something about training for 26.2 miles that makes me feel really good about crossing the finish line, but doesn't inspire me to want to immediately jump into the nest training routine. As a result, I end up doing just a lot of whatever I feel like, without any real goal or intention behind it.
That, however, changed pretty quickly the end of the summer when, facing my annual end of August half marathon, I realized I was going to have to put in some intentional miles in order to make sure I was in race form again. So how does one fight the temptation to leave discipline by the wayside and get back into a routine that doesn't feel too constricting and isn't too easily abandoned? The answer is choice and variety, and it's been my secret weapon the last seven weeks as I got myself back in race form, and across my 18th half marathon finish line.
Whether you're looking to transition to a new routine for fall, wanting to counter balance your love of pumpkin spice lattes, or needing to refocus some fitness or activity goals, this five workout rotation is sure to be the boost you need to make the most of it!
5 Day FALL

Workout Rotation
This 5 day workout rotation works around five different types of activity. You choose which days you'll do which activities, making it fit in more easily with whatever your schedule looks like during the week. Additionally, one of the five activities, the "winner workout," is also a choice workout. Some weeks that might look like a BIG workout, other weeks it might be whatever fits. Here's how the whole breakdown works:
1 day of yoga
1 day of biking/cycling/spinning
1 day of walking
1 day of running
1 day of "winner workout"
2 days of rest
Most of the days are self explanatory. For the yoga, walking, and running workouts, I aimed for at least 30-45 minutes of the given activity for each session. You set the pace and intensity for each session, so if it feels like a good day, feel free to push. If it's taken everything you have to even think about working out, dial it back a bit. Or…consider using a rest day. You've two days a week that are completely free days, so if you really can't muster the will for a good effort, maybe take the day off! The effort should stretch you a bit, but not so much that you dread it and/or want to quit!
The biking workout is going to be a little bit more determinant of your opportunities and equipment. Biking uses different muscles than walking and running, and is much easier on your joints, so it doesn't take an extreme sweat session to get some benefit out of the exercise. Of course, a cycling or spin workout can quickly become heavy cardio, and adding distance to a ride can become an endurance challenge. When I was using this rotation as my main form a race training, my bike days were generally 40+ miles to build endurance capacity. Regardless of speed or distance, the bike is meant to add variety to week, so enjoy a change of pace for the day!
Lastly, the "Winner workout" is whatever is going to make you feel like a total BOSS at the end of the workout. DO NOT turn the winner workout into an extra rest day, no matter how awesome you think that might feel. I used my "winner workout" for my long runs of 9, 10, and 11 miles. You don't have to run a second time. You could double up on any of the workout sessions, or introduce something completely new. Maybe it's a kickboxing workout…weight training…swimming…HIIT…Crossfit…a sports practice…etc. Whatever you choose, you should walk away from the session feeling AWESOME!
I kept a tracker on my fridge, and checked off the box for each type of workout as I finished them during the week. You can print out a copy of my tracker at the link below:
This rotation is particularly user friendly for those just trying to get back into a workout routine as it's got some targets for number of workouts per week and variety of activities, but isn't particularly demanding about distance, pace, and time. Be kind to yourself, and flexible as you start or transition to a new routine, and make sure you give yourself adequate time to relax and recover on the two off days. There's not easier way to abandoned a workout plan that over complicating it and believing it needs to be as hard as possible during every session. So give yourself some grace. Remember that even baby steps are steps forward. And don't be afraid to use this autumn to let yourself 'fall' into some healthier habits!
Cheers!