This weekend, my friends will gather for our third annual Christmas in July celebration. For those of your keeping track, yes I know it's August, and no I didn't forget to publish this post a month ago. Instead, this year, our friends whose turn it is to host bought a house and had to pack through the month of July, thus inconveniently interrupting our regularly scheduled programming. (I hope they read that last bit with tongue firmly planted in cheek!😉
In any case, our Christmas in July has become a Christmas in August, and if you've never celebrated one before, I highly recommend throwing yourself a holiday! It's all the charm and excitement of Christmas, without the stress of a hundred obligations and travel. We have a good meal. We exchange gifts. We wear our PJs and watch a holiday movie. We decorate. Last year we had a Christmas carol sing along. It's an all out barrage of holiday cheer, and, I mean, look at the scene from our house last year! Couldn't we all use this kind of cheer up in the middle of the summer!?
Of course, in the true spirit of the holidays, there are sure to be many libations as part of the evening. In the spirit of the season, this week's recommendation is something a bit heavier, a change over from the lighter "patio wines" I've enjoyed in weeks past, and something a bit more fit for a cozy night in front of the fireplace: Saint Cosme Gigondas 2016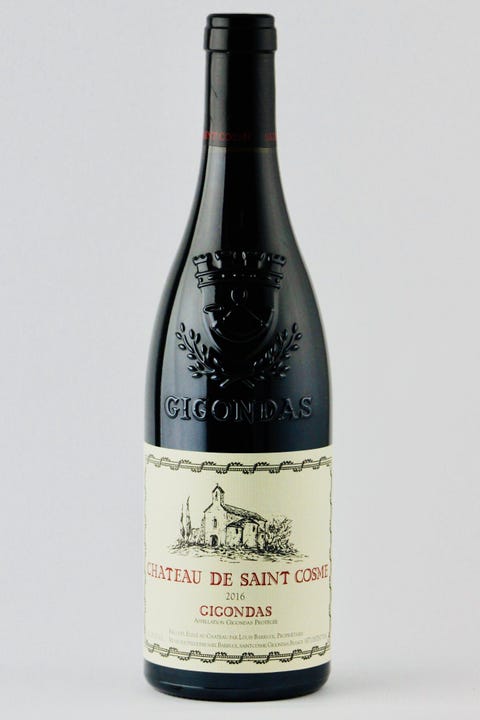 One of my favorite first impressions from a wine is how it appears coming from the bottle into the decanter, and this wine is dark and rich on that first pour. Surprisingly, however, the flavor is lighter and fresher than you might expect given the high percentage of Grenache in their red blend. Still, the flavor delivers the dark stone fruits and spiciness you'd from a deep, dark, complex wine, and there's a smokiness that would pair well with roast, lamb, or tenderloin on the holiday table.
We allowed this wine to decant almost an hour before we enjoyed it, mostly because we were working on our cooking while it sat in the decanter. The producer also suggests decanting, and it was smooth and savory when we finally got it to the table.
We were lucky enough to score this bottle on a SUPER deal last winter. At normally over $50, we found a limited quantity marked down to $22. If you can score a deal, it's definitely a bottle worth a look. At $50+ there's still good value for a special occasion. Admittedly we wouldn't drink it everyday! But we're not talking everyday this weekend are we? We're talking holidays! Merry Christmas in Ju…August!
Cheers!