One of the things that Josh and I like to do when we travel is to drink wine from the local region. Not every area is known for its wine, but many areas make their own wines, and it's interesting to get a feel for a place through its wine. We've found great wine in truly unexpected places. One of my favorite red blends came from a winery in…Kansas. Not exactly the wine mecca of the USA!
In the Swiss Alps, we drank Swiss wine. In the Greek Isles, we drank the golden wine of Santorini. That one time we got stuck in Germany for a night, I drank German riesling. And during our many many days in Italy, we drank many many bottles of Italian wine.
The wine regions of Italy are numerous and expansive, and you could spend A LOT of time touring around the country sampling from various varietals, blends, and labels. Our travels found us spending quite a bit of time on the edge of Tuscany, falling in love with the tuscan wines, and when we came back to the States, we immediately sought out wines that captured the essence of those sun drenched summer weeks that we spent between the mountain terraces and the seaside harbors. And we found them in the "Super Tuscans."
Super Tuscan wines are red wine blends that exist outside the Italian wine ranking system. Generally speaking, certain wine varieties have to contain certain percentages (or less than certain percentages) of grape blends in order to qualify for a certain wine label. Chianti, for example, is a Tuscan wine that can contain NO MORE than 70% of Sangiovese grape, and MUST include at least 10% of local white wine grapes. If the wine blend does not meet those specifications, it can't be sold as Chianti, and instead earns the lowest label ranking: "Table Wine."
The inherent flaw in the system is that sometimes forcing wine into certain blend ratios, thought it meets standards, doesn't make for very good wine. Such was the case with Chianti, which experienced a decline in public opinion through the 70s and 80s as the wines produced at the regulated ratios was largely lacking in quality. As a result, wine makers developed wines outside of the given regulations, marketing them as red blends of labels of their own making and design. One of the first of these blends was the now widely popular Tignanello, which soon surpassed traditional Chianti in price and quality. As the market for these wines grew, the unofficial designation of "Super Tuscans" was established, and now the "Toscana" label designation is widely distributed throughout the world.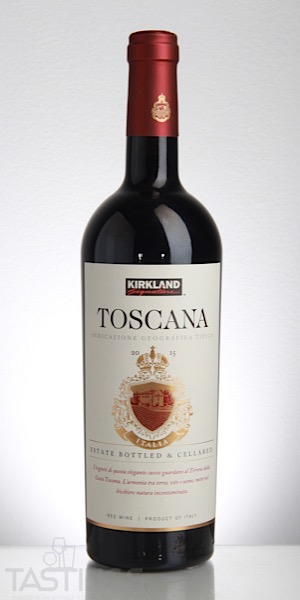 Recently I was at Costco when a new offering, the Kirkland Signature Toscana 2016, was being put on display. I immediately snagged a bottle to do some research as Kirkland Signature has a pretty good reputation of distributing high quality wines at a reasonable price point. Their Toscana follow suit, produced by Alexander Van Beek of Caiarossa winery whose other Toscana wines sell for over $20 a bottle. At $13, Kirkland Signature is a high quality offering, at a more approachable price point.
A red blend of Sangiovese, cabernet sauvignon, and merlot, the wine plays on the best parts of each varietal layering flavors and creating structure that's best if left to breathe first. (As suggested by the wine maker. I decanted for about 30 minutes before sampling.) There are plenty of dark fruit flavors on the front: cherry, black raspberry, and plum. That said, the wine is not overly fruity nor sweet. Sharp tannins cut through the fruit flavor and while the finish is smooth, it's also rather dry. I felt that made the wine rather versatile as you could pair it with a wide variety of food playing up either the fruit elements or the dry acidity.
For our purposes of a wine to pair with mixed appetizers and a variety of leftovers in the fridge, that made it an ideal choice! It also makes it an ideal choice for your weekend, as it can easily adapt to whatever plans you have in mind!
Cheers!