When I read "Digital Minimalism" and set my sights on digital detoxing in 2020, one step the book suggested that I did not implement into my own life was getting rid of TV streaming services.
We employ Amazon Prime video, Hulu, and Netflix in our house, and tend to use each for different purposes throughout the year. In the summer, we almost always consider getting rid of something because we watch so little TV, and it seems a waste. In the middle of a cold, dark, snowy Minnesota winter, however, it seems like we always find the value that each provides as we hunker down each night in flannel pants swaddled in fleece blanket.
Still, one thing getting off of most other technologies has allowed me to do is be much more present and focused about what it is we settle in to watch. Previously, it was way too easy to start a movie, and then simultaneously get caught up scrolling Instagram. Josh doesn't use social media, but even he'd get stuck doing double screens, choosing to browse the news while the TV blazed in the background.
Without "optional technology" pulling our attention away from other "optional technology" (which sounds ludicrous even as I type it!), we've both become much more present when we choose to watch something, selecting something to watch that will genuinely hold our interest, talking about it as we watch, and learning a bunch in the process.
Thus, while my phone screen time is WAY down for the month of January, my TV has remained static…if not increased a little…as we have gotten into some EXCELLENT streaming content.
If you too are hunkered down for a long winter, or just need to freshen up your standby favorites list, here are five must watch recommendations to open your mind and hold your attention as the new year rolls on!
Scotch: A Golden Dream – Streaming on Amazon Prime
Josh is a Scotch drinker. I've never really understood it. It generally tastes like ash or dirt to me. Still, it is the pride of Scotland, and apparently lucrative enough that it's now being heavily taxed coming into the US, so you know it's chock full of history and intrigue. I picked this documentary out for Josh specifically because I thought it'd interest him, but I also found it absolutely fascinating!
Scotch: A Golden Dream looks at the entire process of Scotch whisky making including distilling, blending, and what in the world makes it "Scotch" in the first place beyond just being born in Scotland. Following the revolutionary work of Scotch masters including Jim McEwan and Richard "The Nose" Paterson (seriously, the guy's nose is insured for 2.5 million dollars!), the film dives into the creation of Scotch whisky, from the growing of the barley, to the creation of the hand blown, custom designed glass bottles in which the world's most expensive Scotch is sold.
You'll be hard pressed not to watch with a glass of whisky in hand. Josh poured one immediately as the final credits rolled.
2. Score – Streaming on Amazon Prime
When I was a kid, the octopus queen Ursula in The Little Mermaid used to terrify me. That scene in the animated film where the sky turned red and she grew into a giant out of the sea was horrific…that is, unless my parents muted the TV. Without the menacing music, the pictures themselves were unsettling, maybe, but not scary.
Score is a film music documentary interviewing dozens of award winning and well known composers about the work that goes into crafting the soundtracks that underscore many of our favorite films. From garages full of unique instruments rarely seen, to well known concert halls and soundstages, from the toy piano used on the Rugrats theme then sold at a rummage sale for $60, to a giant piano stretching over a dessert valley, Score examines the ins and outs of composition, an often unseen but vital art in movie making.
It's impossible not to marvel at the talent of the studio musicians, wonder at the accelerated time lines composers work in after editing, and absolutely fall in love with some of your favorite movie soundtrack themes all over again.
An unexpected bonus, I guarantee you'll be curious by the time the credits role, who got to compose the score for a movie about composing film scores!
3. Super Size Me 2: Holy Chicken – Streaming on Amazon Prime
I was in high school when the first Super Size Me documentary came out in 2004, and I remember it being a big fuss. I think we watched it, or at least part of it, in health class when we talked about obesity and healthy eating habits. I think the anatomy class watched part of it when talking about the digestive system. I'm sure I watched all of it in college a few years later, both for the gross factor, and in my film and literature studies class when we got to the documentary.
Not since Bowling for Columbine had a documentary gone as mainstream into the social conscious of high school/college students as a documentary where a guy stuffed McDonald's into his face three times a day and marked his progress as he went along.
Super Size Me 2 is a different kind of fast food documentary, one that even filmmaker Morgan Spurlock seems hesitant to begin as he admits it's been more than a decade since he set foot in a McDonald's! In the film, he sets out to launch his own fast food restaurant, a chicken joint, in the process uncovering the fascinating truth about the labels, branding, marketing, and food industry standards that have led us to begin thinking some fast food is "healthier" than others.
Spurlock digs deep into the chicken industry, deciding to raise his own hens to be more consumer conscious and solidify his "farm to table" image. He goes through USDA certification (merely paperwork), and engages in market research and development ultimately deciding to pander his "healthy chicken sandwich" option – the grilled crispy chicken sandwich – at a restaurant of his own creation: "Holy Chicken."
Biting, witty, and indicting towards the firms that run our food industry, the film will make you simultaneous swear off fast food and crave a chicken sandwich…so do with that what you will!
4. The Politician – Streaming on Netflix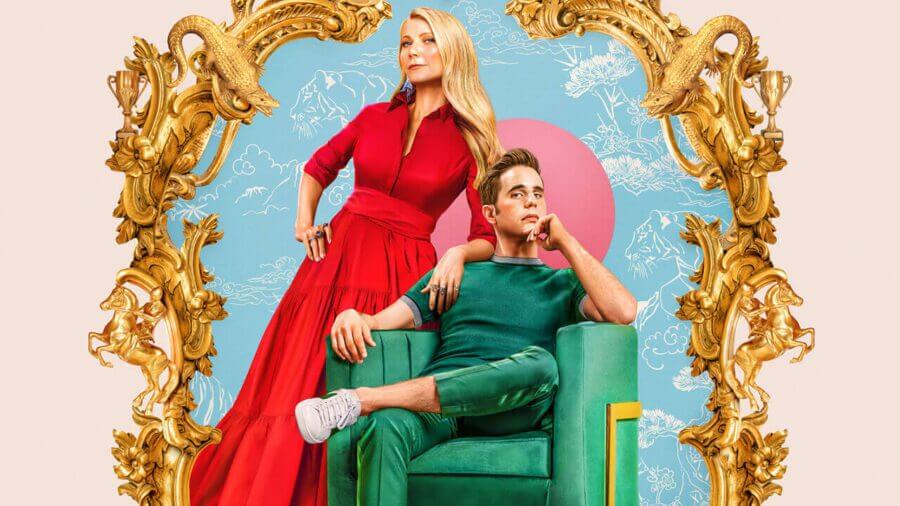 I had largely ignored The Politician in my Netflix suggestions until I saw it come up at the Golden Globe awards. Then, realizing that creator Ryan Murphy (Nip Tuck, Scream Queens, Glee) was the mind behind the madness, and that Ben Platt (Dear Even Hanson) played the lead, I immediately binge watched the first four episodes! I was not disappointed!
Let me be frank about what you're getting into here though. This is campy. The plot is nonsensical, but you will willingly suspend your disbelief. There are gratuitous musical numbers because…well…it's Ben Platt and Ryan Murphy. Also, two episodes feature a hapless high school musical, probably to appeal to Glee fans! The ending is so blatantly set up for a second season that it hurts. But it's also OK because I'm TOTALLY here for a second season! The clothes are beautiful. It's hard to tell if Gwyneth Paltrow is acting or if that's just what her real life looks like. And through it all there's a semi-poignant and timely commentary on mental health.
The basic plot premise is that an extravagantly rich kid, Payton, goes to an extravagantly rich high school, St. Sebastian, where the campaign for student body president is essentially run like a campaign for president of the United States. As Payton had a prophetic dream as a child that he would someday be president of the United States, he has dedicated his entire childhood to constructing the perfect backstory to someday feature prominently on his campaign trail. That backstory is to culminate in his election as student body president.
But, as you can imagine, there's a lot of crazy stuff that goes wrong that prevents that from potentially happening.
That includes two assassination attempts, a running mate with "fake cancer," a suicide at the high school, high school affairs, and bad polling data.
So, you know, normal politics!
5. Million Pound Menu – Streaming on Netflix
When you first hear the title Million Pound Menu, you might be inclined to immediately think weight. Afterall, I just reference Super Size Me, so you're brain is probably already half there anyway.
The pounds referenced in this title, however, are British pounds…as in currency. And in this reality show, chefs and restaurant managers are competing for an investment from the some of the leading food and beverage reps and distributors in the UK. Those investments sometimes top out at over one million pounds, hence the title.
The format of the show is kind of Top Chef meets Shark Tank. Chefs and their restaurant teams prepare a dish that goes head to head with two other teams, with a group of investors choosing the dish and concept they'd most like to see again. That team goes on to soft launch their restaurant concept in Manchester, England, with the team of investors following behind to see how the restaurant runs, whether the quality of food is consistent, and if the business could be a sound investment for them in the future.
At the end of the test run, investors make their pitch to the team. Sometimes, investors compete against each other for the restaurant. Other times, no one ends up being interested at all.
If you've never watched British reality TV before, you're really missing out. If you're a Food Network fan, this is going to be right up you alley as well! The thing about British Reality shows is the competitors are just so darn cordial and earnest throughout the whole process. Even when in direct competition with each other, they're really lovely to one another.
Plus, a lot of the food looks absolutely, ridiculously delicious!
BONUS WATCHES
Cheers, and happy binge watch!