So our electrical inspection passed with only a few minor tweaks that needed to be adjusted, and the inspector essentially saying that the house is extra safe because we have bigger breakers than we need, and far far far fewer outlets on each circuit than they worry about.
We were worried we might be overboard with 12 outlets on our bonus room circuit…he said he wouldn't start to worry about it unless there was 100 outlets on a circuit! So I guess we're covered!
Still, in our current house we have an outlet that pops the whole breaker when we plug in a vacuum cleaner, so I'm not sure I'd string 99 more outlets to that one!
From the electrical, Josh moved onto all the little putzy framing details that needed to be addressed before the framing inspector comes. It still baffles me a little bit that the framing inspector comes long long after you'd start to worry about structural support issues. Like, before we put up the 380 lbs/each rafters might have been a good time to come check the walls that we were setting them on. And then before we roofed it might have been a good time to check those rafters!
I understand that they also need to check that the mechanical stuff (plumbing, HVAC, electrical) didn't compromise the structure when they drilled and cut into things. And I'm not suggesting we would have wanted to pause everything for two more inspections. It just seems like the principle of the thing!
That inspection is now set for Monday, and it's the one that Josh has seemed most nervous about to this point, I think because not very many people build their own house literally board by board and nail by nail. Still, I tell him he should take great comfort in the fact that it's standing with window, doors, a roof, stairs, floors, etc…and it hasn't fallen down yet. 😉
As the dead of a Minnesota winter creeps by, I feel us creeping ever so slowly towards the stuff that I'm excited to jump back into as well. We ordered all our hardwood flooring this week, as we're currently about four steps away from laying floor! (Step 1: insulate; Step 2: drywall; Step 3: prime the walls/paint the ceiling; Step 4: begin laying floors!) Admittedly, those are BIIIIIG steps 1-3. But as we're already at the end of January, and anticipate drywall could come before the end of February, that 4th step isn't as far off as it once seemed.
To that end we've also been considering what to do in our entry way, where we have two exterior doors coming into the house (one from the front and one from the garage) and have planned to lay hardwood floor. This isn't really a problem seeing that we keep the hardwood floors dried off when people come in with wet shoes and boots. But we've also been floating the idea of tiling the entry to make it easier to clean, and less problematic with water.
The problem with tiling the entryway, is that there isn't really a good way to do it in a traditional sense because of the french doors to the office. To tile a square entry way, the edge of it will split the doorway to the office. To go past the doorway to the office, we have to tile the hallway, which then at some point has to transition back to hardwood. We've been considering "L" shaped tile work. But then started to come across some very non traditional tile transitions.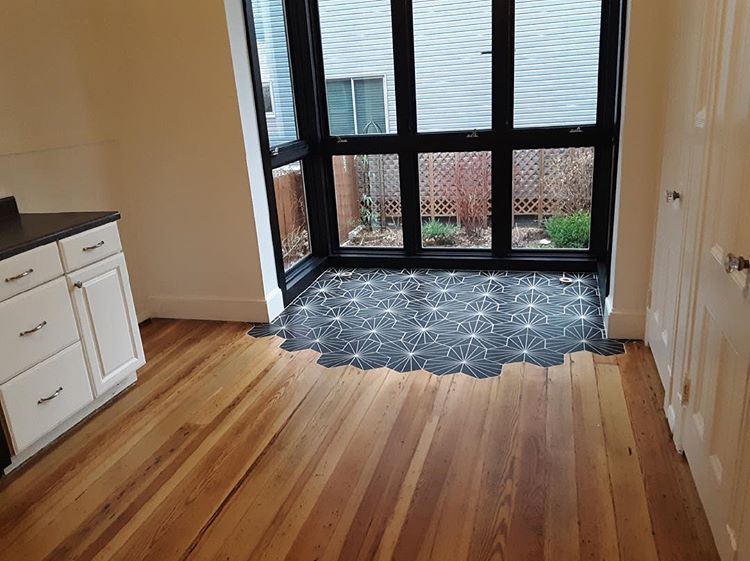 What do you think about non-traditional tile transitions? Would you do them in your house? Do you have a favorite image above? I'm leaning towards an option that would allow us to have some tile to save our hardwood entryway. But you'll have to wait for a later week to see if that unfolds! Until then!
Cheers