I've written before about liking the feeling of turning the page. New Year's Eve…birthdays…I'm a big believer in fresh starts and getting a clear perspective. So after Coronavirus completely dominated the month of March making 31 days feel more like 31 weeks, the fresh start of April should feel like welcome change.
And yet, as the current social distancing and shelter-in-place measures look to be extended at least another month, it's not unreasonable to also anticipate that April will feel like much of the same!
Never fear…Netflix is here! And while I generally believe that your quarantine should include more than hours long binge sessions in front of your streaming service of choice, there's no denying that hours and hours and hours of time and home do leave adequate time to take a walk, get some fresh air, clean your closets, organize your silverware drawer, work a puzzle, play two games of ping pong, make a home cooked meal…and still have time for a few hours of television.
You've probably already cruised through your favorite season of – insert sitcom or procedural show here – and have likely also binged on at least one of the viral docu-series offerings on Netflix. (But seriously…if you have not watched 'Tiger King' yet, you must start it RIGHT NOW!) So here are four other options for your next at home movie/streaming night.
Which, let's be honest, is probably tonight!
The Circle – The Circle is a Netflix reality show that's essentially a mashup of Big Brother and Catfish. On the show, contestants are confined to their apartment which is connected with a social media platform called 'The Circle.' Players interact with each other through the platform sending messages, updating their statuses, and sharing photos. The format, obviously, allows every player to either play as their true selves or as an invented character…a catfish. Players rank each other based on likability, and the highest ranked players become influencers who decide who has to leave the game. Before leaving, eliminated players reveal who they actually are to the rest of the group.

I was, admittedly, skeptical of the show when I watched the preview, and even through the first episode. However, it's really easy to get hooked into rooting for certain players and watching how interactions happen between people who have never actually met. It's also hard not to notice how openly disingenuine and calculated people are in trying to get people to like them online through their profile as it essentially reveals what, I believe, we all probably know about social media but don't generally watch happen live.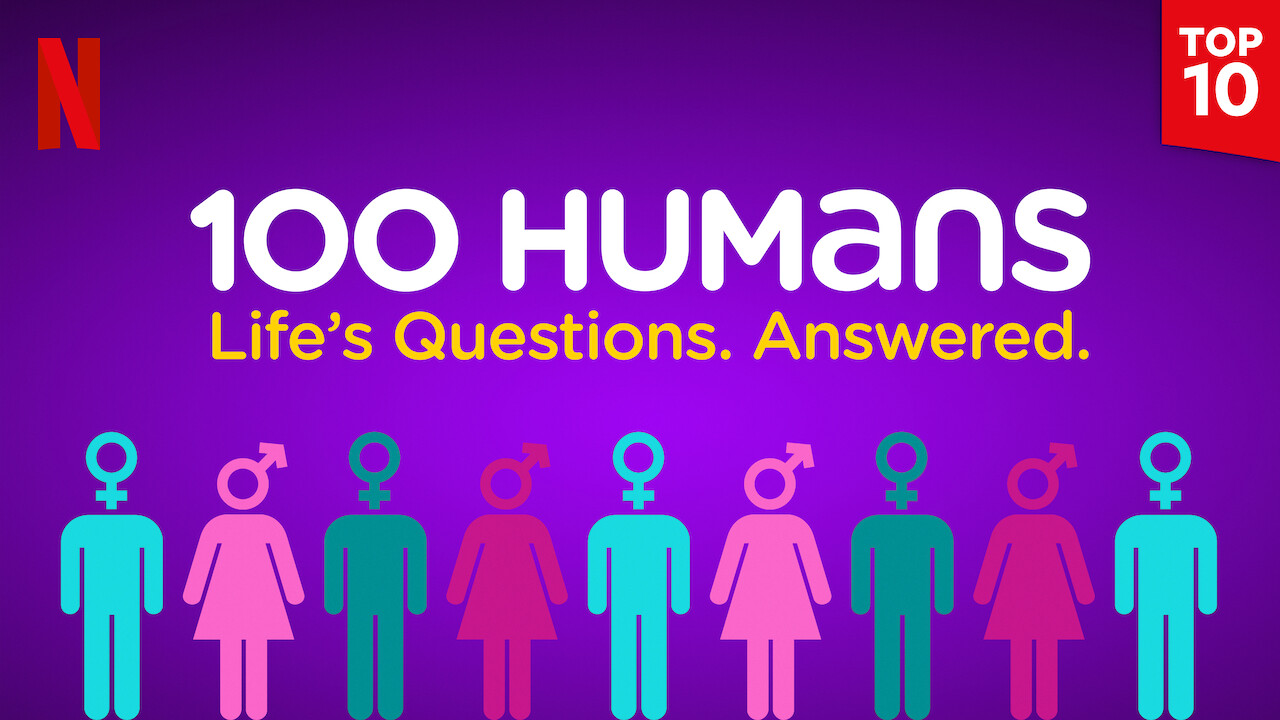 100 Humans – 100 Humans is a pseudo-scientific series from Netflix where common questions and myths about humanity are tested through experiments using the same cast of 100 humans. The show documents the "scientific processes" used to collect data from the 100 humans, and hosts Alie Ward, Zainab Johnson and Sammy Obeid provide some snarky commentary in voice overs and interview experts that can comment on trends found in the results. The range of topics explored spans from sex, to torture, or tic-tac-toe, to bathroom habits.

To be clear, you should not watch 100 Humans for its scientific accuracy! The experiments may just be designed to be entertaining rather than be scientifically rigorous, and a sample size of 100 is pretty limited for some of the things they're trying to measure. But the commentary is pretty funny, and the cast of 100 Humans, despite being nameless and dressed all the same, does become oddly endearing through the episodes. Are you going to sit and watch all eight episodes all in one sitting? Probably not. Will your casual curiosity prompt you to want to watch the episode where they take on how people put the toilet paper roll on the holder and whether other bathroom habits are normal? Probably yes!

Everest: Beyond the Limit – This one is available on Amazon Prime, so if you're not a Netflix streamer, this might be a better option for you. A docu-reality series that follows expeditions up Mount Everest, this is a good option for anyone who didn't get queasy watching Free Solo. The cast of characters will make you laugh, cringe, and cheer.

But more than that, watch this one for the scenery! If you're feeling claustrophobic inside, you'll definitely appreciate the sweeping panoramas of the Himalayas. And the shots inside the tiny, freezing tents in which they camp on the mountain will probably make you feel a little better about being stuck in your house as well! There are currently three seasons streaming on Amazon Prime. You'll want to binge just to see who's able to reach the top!
The West Wing – Full disclosure, The West Wing is my favorite television show of all time. I remember watching the whole thing with my family when I was a kid, and since the entire thing is available on Netflix, I have watched the whole series at least three more times front to back. I could have told you to binge this years ago, but it seems like a smart binge now, in the middle of the pandemic, because it will give you hope again about smart, rational political dialogue. Honestly, why a politician hasn't hired series creator Aaron Sorkin to write for his/her campaign is a mystery to me.

The characters in West Wing are more likeable than say House of Cards which seems packed with anti-heroes. The "villains" are real world problems, and in watching it back, it's amazing how many current world situations were played through on the show years before. You'll want to write-in Martin Sheen's character for president this November. You'll want to interview Allison Sweeney's. This is my go-to watch on a lazy Sunday, and it has never ever gotten old!

Enjoy your next binge! Wash your hands and take good care.
Cheers!