This Friday marks TWO FULL YEARS of wine for your weekend recommendations, which, quick math, means over 100 bottles have now been reviewed for your wining and dining pleasure! As such, I thought I'd throw it back to the very first wine for your weekend post ever. The first bottle ever reviewed in June 2018…Kirkland Signature Willamette Valley Pinot Noir.
Kirkland Signature Willamette Valley Pinot Noir
Fun fact, everyone raised in the 1990's knows the Willamette Valley not because of its wine making prestige, but because it was the final destination of the iconic 8-bit computer game "The Oregon Trail." After sailing down the Columbia River, the great quest west was complete, and certainly whatever characters hadn't died of dysentery would have celebrated with a glass of Kirkland Signature Willamette Valley Pinot Noir!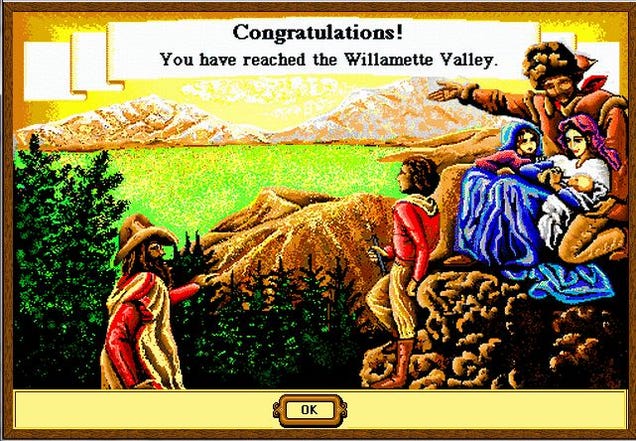 This is a semi-dry red, with a touch of oak, notes of cherry, plum, and dark berries. Acid helps to balance the tannins experienced in the finish. If available, the 2015 vintage is excellent, and an award winner! Added bonus, it will only set you back about $15, which is pretty reasonable compared to other Oregon Pinot Noirs that you'll find on the shelf.
True, as a Kirkland Signature brand, you will only find it at Costco, but the bottle is worth tagging along with a member friend. Or, check if your Costco allows non-members to purchase liquor. It's illegal in some places to have memberships for alcohol sales, so you may be able to walk into the liquor department free and clear.
Cheers to your Friday!